Every Chair Turned Just for You!
On The Voice, singers perform and hope at least one of the three judges chooses them by turning their chair. For graduates, every chair is turned just for you! You are the winners!
Completing a degree program requires determination, intelligence and courage. If you are being awarded a degree, then you have these traits and they are your keys to the future.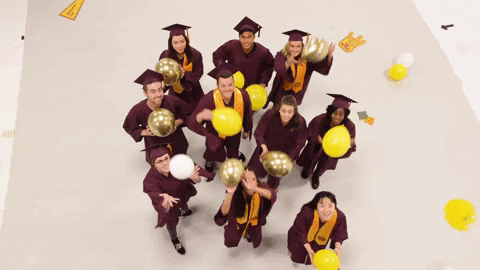 High school graduates, your diploma has just opened the door to college. Your grades are important, but letters of reference from your teachers and coaches acknowledging your efforts are just as important for scholarships, as well as acceptance to the colleges of your choice.
College graduates, your degree is usually in one particular area of study, but you will find employers willing to give you a chance in areas not directly related to your degree. Why? Because you have proven you have the work ethic they're looking for in their company. They know future training will be a good investment with you. You have proven you are worth it!
What other skills are important? Employers today are looking for applicants who are team-oriented with communication skills, integrity, detail-oriented, possess organizational skills, and demonstrate high energy.
Following fair employment practices, a job description must be provided by the employer and must include the level of education required. If your degree fulfills the requirement, use it to choose a place to work, but also consider what is offered for ongoing education. Will you be offered opportunities to pursue future skill development in specialized areas? Often this is done, with the financial support of the company.
For example, if you are a computer programmer, you will want access to ongoing training, which will keep you current with new technologies. Most school districts employ teachers and provide incentives to cover the cost of additional study and pay raises for advanced degrees. Nurses are often offered incentives to acquire further education both on the job and college coursework for skilled nursing areas, such as cardiac care and neonatal care. Choose an employer who will invest in you, and make learning a lifelong goal.
Congratulations to graduates and their families! Enjoy your celebrations!
Ellen Mooney is a retired principal and teacher with more than 45 years of experience in K-12 education.